Utah Industrial Construction: Concrete Tilt-up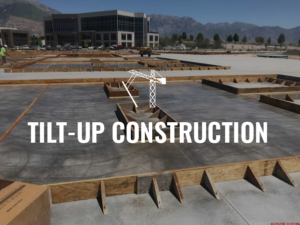 Tilt-up Construction is an Excellent Choice for Industrial Buildings in Utah
Tilt-up concrete construction has been in existence for well over a century, and today is one of the preferred construction methods for commercial and industrial applications. The numerous benefits of this type of structure contribute to the over 650,000 square feet of concrete tilt-up buildings being constructed annually according to concrete industry sources.
One of the first companies in Utah to offer concrete tilt-up services was Eckman Construction, founded over 60 years ago. At any given time, the company is working on about six to eight projects ranging in size and complexity. One of Eckman's current tilt-up projects is a 180,000-square-foot warehouse. Amid the construction, we were able to catch up with General Superintendent, David Mestas, to gain insight into Utah's tilt-up construction industry.
Key Benefits of Tilt-up Construction
Mestas describes some of the benefits of concrete tilt-up to include construction cost savings, speed, and environmental friendliness, aesthetic design flexibility, ease and low-cost maintenance, energy efficiencies, and fire safety. Typically, the buildings best suited for tilt-up construction are larger industrial and commercial buildings. "Some of our projects are warehouses, distribution centers, storage facilities, and retail," says Mestas. "But schools, hospitals, commercial, and even residential can be built with concrete tilt-ups. Of course, cost efficiencies improve as structure size increases."
The Process of Tilt-up Construction
Concrete tilt-up construction begins with job site preparation, including underground plumbing and foundation footings. The next step and a critical component of tilt-up construction is laying the concrete floor.
Mestas describes why Eckman Construction spends considerable time and resources to ensure floors are poured and finished to as near perfection as possible. "We take pride in our floors, as it is critical in tilt-up construction for floors to be flat, no cracks, and properly cured." He continues, "On average, a project may have 20 to 70 panels formed, braced, and poured directly on the floor. Of course, the quality of the walls depends on the quality of the floor." Panels are typically about 27′ x 34′. Depending on the number of door and window reveals, each panel weighs anywhere from 70,000 pounds to 170,000 pounds. The type of details planned for and monitored during the construction process include design specs, type of concrete mix, pour sequence, pour day temperatures, site environmental issues, and curing process—to mention a few.
Large crane operations are a critical component in the concrete tilt-up construction process. Each project typically involves a 300-ton crawler crane that allows the walking of the panels. Eckman Construction regularly contracts with crane services that also work with other tilt-up construction companies. Mestas shares how the crane operators consistently comment and give positive feedback about how organized and efficient Eckman job sites operate. "There is a sense of accomplishment that we deliver on all the pre-planning," says Mestas.
Tilt-up Construction Trends
One of the current trends in concrete tilt-up construction is a focus on building finishes. Increasingly, Eckman Construction is finding that client owners are willing to invest a little more when it comes to improving the aesthetics of their buildings. Some of the design finishes the Eckman team has incorporated into recent projects include aluminum panel finishes, form casting of specialty medallions, decorative recesses, and form liners to give the concrete walls the appearance of being a different material. Currently, Mestas is working on a project using form liners to provide walls the look of old board form. Another project included creating large pheasant birds from form concrete casting and attaching them to the building's exterior.
"In my 20 years with Eckman Construction, I've been fortunate to work on many different projects with 80% of our owner clients being repeat customers," says Mestas. "We pride ourselves on maintaining communication with the entire team, including the builder, owners, architects, and engineers. Because of this ongoing and open communication, we consistently deliver a superior product."