Meet the Team: Sierra Uncles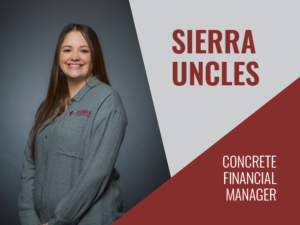 The Importance of Financial Management in Concrete Construction
At Eckman Construction the success of each build is a result of the entire team working together to deliver quality projects on schedule and within budget. As the Concrete Financial Manager, Sierra Uncles plays a critical role in supporting the concrete construction team and assisting in meeting these goals. Once Eckman receives a concrete bid, Sierra begins coordinating with Eckman's bid estimator, concrete superintendent, and vendor suppliers to procure the correct supplies, at the best pricing, and within the needed timelines.
"I've worked with Eckman Construction for nearly five years, gaining extensive hands-on experience," says Sierra. "Not only are my days spent in the office managing bids, vendor purchases, and all that is involved with financial project management, but I have also spent quite a bit of time in the field on build sites. Spending time with the construction crews and project superintendents help me better understand the needs of each project and work more efficiently with all the team members."
Sierra describes how she has always loved numbers and accounting, even going back to high school days, "I always thought I'd work in accounting, but I never thought I would be working in construction." She continues, "But when I began in my first role as the receptionist for Eckman, I quickly felt as though the company was an extension of my family."
Sierra displays a natural curiosity and desire to learn, which are qualities seen throughout Eckman's team of managers and employees. "I would not be successful in this financial management role without having the experience as the company's receptionist," she explains. "My numerous and frequent conversations with owners, vendors, designers, and other team members helped me learn about concrete and the construction process, and ultimately all the tiny details that make a project successful."
The enthusiasm in Sierra's voice as she describes the construction process going from footings, to a flat concrete floor, to days later, seeing thousands upon thousands of pounds of concrete walls erected to create a building, is an example of her passion for the industry and the company.
Sierra spends her days making cost comparisons, procuring accurate and cost-efficient products, timely processing of invoices, financial project management with the use of industry software, tracking labor costs, and overall managing all the financial components of a variety of jobs.
"Working here reminds me of the small town I grew up in, we all look out for each other," explains Sierra. "At Eckman Construction we have our client's best interest at heart and strive to meet pricing goals while delivering a quality building."