Pre-Construction Services: Design-Build Teamwork and Planning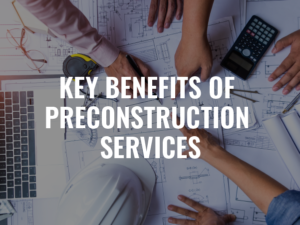 Teamwork from Concept to Construction Provides Key Benefits
Solving complex issues is at the core of the commercial construction process. These issues include meeting tight time schedules, reducing change orders, and meeting forecasted budgets while creating high-quality structures. In the traditional design-bid-build model, the construction process begins by hiring a design team of architects and engineers. Once the design process is complete, plans go out for bid to general construction firms.
In contrast, the design-build process, which is experiencing an increasing preference by a wide range of commercial owners and developers, brings together both the design and the general contractor teams at the beginning of the construction planning process.
AE Urbia and Eckman Construction, both headquartered in Utah, have successfully worked together on numerous design-build commercial projects. A key design-build team member at Eckman Construction is Estimating Vice President Curtis Padjen. "Bringing together the owners, architects, engineers, and our general contracting firm early in the process creates a cohesive team with a diverse range of experts in a variety of fields," describes Curtis. "Together, we carefully review each stage of the plan to discover and clarify items that otherwise may not surface until we're in the midst of construction."
"We always push to do pre-construction with our contractor, because it makes the whole project more successful," says Andrew Bollschweiler, with architectural and engineering firm AE Urbia. "We start early with the owners' best interest in mind, touching everything up-front before it goes to bid. This helps ensure smart design, proper use of materials, and overall minimizes costs and maximizes efficiencies."
Curtis cites an example where the design-build process saved the owner significant expense. The project involved the progressive construction of 11 buildings on one site. The team planned to build the first building at the highest point on the site, then moving soil to the lower build areas, eliminating the need to truck or purchase soil. "This may seem simple enough," Curtis expounds. "Yet this would have likely been a costly oversight if the owners, architects, engineers, and contractors had not been working as a team to develop a comprehensive pre-construction plan."
The key benefits of working with a design-build team described by both AE Urbia and Eckman Construction include:
Reducing change orders drastically
Decreasing overall costs
Creating a realistic schedule and budget for financing and project management
Developing beneficial synergies for a collaborative team approach
Building high-quality structures that meet owner and tenant needs
For commercial developers, the design-build method provides the advantage of knowing costs, budgets, and alternative pricing throughout the design. This allows for the adjustment of design and function to meet the pre-determined budget. It enables the client to arrange accurate financing prior to construction and analyze the profitability of the project through the entire design process.