Meet the Team: Eric Robinson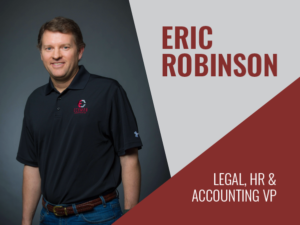 Commercial construction projects are multi-faceted and involve layers of high-level administrative oversight to deliver quality builds. Eric Robinson, in his executive role as Vice President of Legal, Human Resources, and Accounting for Eckman Construction, oversees many of these critical behind-the-scenes financial and legal responsibilities.
As a practicing attorney, Eric's credentials are quite impressive. He obtained a Bachelor of Science degree with honors in Accounting from the University of Utah along with passing the CPA exam. He earned his Juris Doctor degree with Order of the Coif from Vanderbilt University, one of the nation's top law schools.
Eric's initial affiliation with Eckman Construction began about two decades ago while employed as a corporate attorney with a Salt Lake City law firm. This firm focused on real estate and construction law, along with corporate and other business transactions. "Gary Eckman and I worked together on a few projects during my fourteen-year career with the law firm, then I joined Eckman Construction in 2008," says Eric. "Being a mid-sized commercial construction company allows me to oversee a variety of business aspects of the company related to legal, H.R., and finance."
Having a multi-disciplinary professional skill set continues to make Eric a solid match for Eckman's commercial construction industry business needs. Eric describes his role as wearing many hats.
"I make sure we have good solid contracts with owners, subs, and materials suppliers," explains Eric. "I bring these contracts to our team. We discuss the contracts and their terms in detail because the success of each project is highly dependent on identifying and specifying processes, expectations, and consequences in advance."
Eric describes the contract process as critical to all parties' financial success. "Owners and developers know when Eckman Construction takes on a project that all aspects of the project's build will flow efficiently to meet time schedules, as well as be within budget." He meets regularly with team members help assure each project's success.
"We have a close relationship with our employees, the developers, owners, designers, and subs. Our environment is not that of a big corporate feel but more of a friendly, family-type environment," says Eric. "We have a reputation for doing exceptional builds. Many of our owners have worked with us for years building mutual trust and respect. We strive to create win-win solutions."