Meet the Team: Scott Duke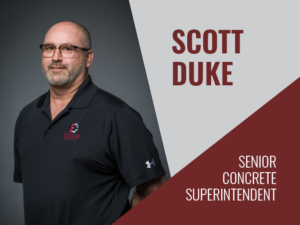 An Inside Look at Becoming a Concrete Specialist in Utah
Senior Concrete Superintendent Scott Duke has an impressive career of 31 years working with Eckman Construction. Over this time, he has worked on a multitude of projects varying in size, location, and specifications. Scott's introduction to concrete happened during his teens when he spent his summers and time after school working in his grandfather's concrete business. This was years before making the concrete industry a career choice. His grandfather's business did a considerable amount of road and highway work in addition to residential and commercial projects.
"I learned concrete by being hands-on—by doing the work and observing how concrete responds in a variety of settings." He smiles as he reflects on those early days. "It was a good way to stay out of trouble," says Scott. "It used to be said that all you need to work in concrete is a strong back, but that certainly is not true. To be successful, you need to have a solid understanding of the mixes, materials, and applications." Scott, with his desire to continue moving up the career ladder, has remained dedicated to understanding the industry's ever-changing technologies.
In exploring a day in the life of a Senior Concrete Superintendent, Scott says that if it's a concrete pouring day, he may start as early as 1:00 a.m. by checking multiple weather sources—only after which he begins to coordinate people, equipment, materials, and resources. As Scott says, "Time is money, and if we're going to need to make schedule changes, I need to be in communication with all the job's contacts. If there is a stop, this impacts the entire project, so being quick to let the guys know is important".
Scott explains how it may seem that a large project, such as one requiring a 400–500-cubic-yard pour, may appear much more important than the next day's small 10-cubic-yard project. But he emphasizes that this is not true because if the small project is delayed, it will still impact the entire project and can be just as costly.
"Our entire team is working towards delivering quality, and by that I mean my crew of reliable men and women, the Eckman team, the job's superintendent, and the project owners. Everyone has to work together," says Scott. "Eckman lets me get the job done. I take care of our clients. I have no apprehension about directly contacting anyone involved with the project, including owners. Some companies don't allow that. But at Eckman, the project owner is part of our team."
When asking Scott what a few of his favorite or most memorable projects have been, he replies, "There are so many, I'm not sure where to start." He does describe working on two commercial warehouses as being "really, really fun." These were the Northpoint and Pheasant Hallow warehouses where the owner was excellent to work with; and the job required getting one of the largest cranes available to lift the panels in place.
"To be successful in the concrete business, you have to have dedication," concludes Scott. "Sure, sometimes, you sacrifice some sleep, but you have be dedicated to delivering quality. As the superintendent, I know I have to be the guy who can see the big picture, work in a team to support one another, and constantly be willing to learn."