Memory Lane: Tracking Eckman over 100 Years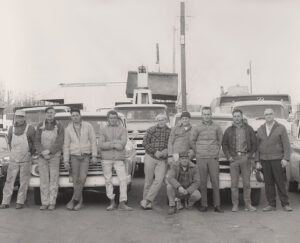 Construction has been in the Eckman family for close to 100 years—Edward Eckman started as a general contractor in the 1920s. These pictures are from back when Edwards son Harvey owned "Harvey W. Eckman Construction," which he started in 1938. Harvey W. Eckman built service stations for all the major oil companies in most of the western states.
This group picture shows Harvey Eckman on the far right and Gary Eckman, his son, on his left. Gary grew up around his father's work and started assisting in the field at a young age. Gary was about 25 in this picture, working as a superintendent for his dad Harvey. Gary eventually bought Harvey out and started what we know as "Eckman Construction" today. Gary is turning 79 this year and is still our CEO and company owner.