Meet the Team: Edward Vertin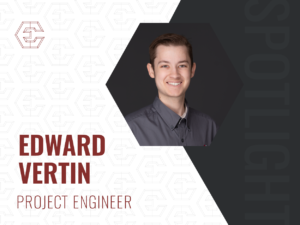 Edward Vertin, Project Engineer, has under his belt three years of study at Seattle Pacific University in Engineering and Economics, and just seven months of project engineer experience at another construction firm before we hired him. Diligent and efficient, he performs his roles in project management with a level of organization that benefits everyone. His roles on his projects include tracking submittals, procurement, schedule, and RFIs, and helping address any problems that arise, as well as following up with subcontractors and EORs, and taking and logging meeting minutes. Tech-savvy and a quick learner, he is already contributing much to the problem-solving core of construction.
He credits his mentors throughout high school and college with his success. Some career advice he find central to his organizational work is creating a list of tasks each day and completing them in order of importance. A hard worker, he's found meaning and reward in seeing the results of his hard work, and being able to provide for his family is a crucial blessing to him. At the end of the day, he enjoys cooking, outdoor activities, and spending time with his wife and young daughter.