Meet the Team: Michael Raines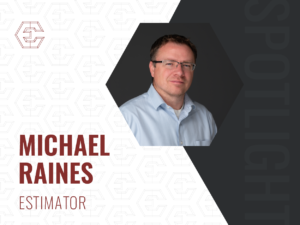 With 16 years of experience in estimating and preconstruction, Michael Raines, Estimator, offers thorough communication, an attention to detail, and a high level of expertise and accuracy that goes above and beyond the average. With a bachelor's in Construction Management from BYU, he credits his success to self-discipline and consistent effort over a long period of time. He has extensive estimating experience that haps him tackle each of our projects with patience and ability.
The best career advice he's received is that "small behaviors performed consistently over a long period of time can have a huge impact." In turn, his advice would be not to hesitate in telling someone else that they've done a good job. Among his personal interests are RVs and boating, and he lives with his four (count them: 4!) dogs.