Eckman Builds New Tooele Valley Mosquito Abatement District Headquarters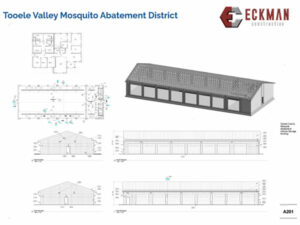 The Tooele Valley Mosquito Abatement District (TVMAD) recently awarded the construction contract for their new headquarters facility to Eckman Construction.
The new 7,000 SF facility, located in Lake Point, Utah expands TVMAD's ability to serve the public with a facility to store, maintain, and service much-needed trucks, equipment and supplies to provide vital public health services through effective mosquito abatement.
Construction on the new building began August 1, 2023 and is scheduled to be complete by May 1, 2024. The building will include 16 overhead doors, truck washing, equipment storage, maintenance, and servicing facilities. The facility will be located on a 3-acre site and will be constructed primarily of insulated CMU block, concrete, and wood trusses.
"We're honored to be selected by the district for this important project. Working with the Tooele Valley Mosquito Abatement District on this project is a great opportunity. We value the services the district provides to our community and are honored to help them better achieve their mission with these new, state-of-the-art facilities," said Cooper Eckman, Managing Director/Owner of Eckman Construction.
Formed in 1976, the Tooele Valley Mosquito Abatement District is a special district which serves 600 square miles of Tooele County including Grantsville City, Stansbury Park, Erda, Lake Point, and Stockton Town. As a public health agency, TVMAD works to reduce current mosquito and vector-borne disease issues while maintaining surveillance for future emerging diseases. For more information, visit  https://www.tooelevalleymosquito.org/.