The Importance of Risk Assessment and Safety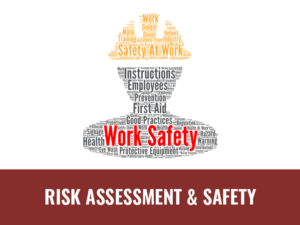 Building "Safety First" into Construction from Start to Finish
Mitigating risk and maintaining job safety are critical elements to success in commercial construction. At Eckman Construction, these are priorities from pre-project to post build. As Kristi Harris, Legal and Risk Management Advisor, describes, "By assessing and managing potential risk issues, it assures that policies and procedures are in place that everyone is bound to follow. Ultimately, we ensure that our owners, subcontractors, and the buildings are protected."
Safety Starts with the Team

Eckman Construction's risk assessment and safety begins with the hiring process. Before joining the company, employees go through an interview process and background search, including driving history and drug test. Once hired, employees participate in mandatory ongoing training and are held to high industry safety standards. Having a skilled and conscientious team of employees is critical to Eckman Construction's day-to-day operations.
Risk assessment and safety at Eckman Construction also depend heavily upon contracts between owners and subcontractors. These contracts help to define the details of the job from financial responsibilities to schedules to project outcomes. Kristi works closely with Eckman Construction's Vice President and staff attorney, Eric Robinson. Eric reviews each owner contract that gets sent, while Kristi works with the Project Managers to ensure the inclusion of necessary details might need to be in subcontracts to meet each project's needs.
Finding Issues Early: Insurance Review
In addition to her many other responsibilities, Kristi reads and reviews insurance policies. "Reading pages upon pages of insurance policies is not the most exciting task," says Kristi. "But reading these policies is extremely important because we often can catch items before they become an issue," she explains. There are times that insurance carriers will give a general statement that specific coverage exists. Still, after reviewing the policy in detail, some exceptions may exclude the coverage. These discoveries allow preemptive action to avoid future problems.
Site Management and Project Safety
In an industry with high safety standards, Eckman Construction goes above and beyond to provide safe work environments, free from unsanitary, dangerous, or hazardous conditions. This includes observing and complying with all applicable Federal, State, and local safety rules and regulations.
Dave Mestas, Eckman Construction's General Superintendent, plays a critical role in ensuring job safety in the field. Dave is regularly onsite, alongside company project Superintendents. Dave inspects and makes necessary adjustments to ensure safety and work quality from start to finish. As he describes, safety is always a company priority considering the high number of ever-changing elements involved with commercial and tilt-up construction.
The current COVID-19 pandemic brings additional safety and risk concerns to job sites, which Eckman Construction is addressing with social distancing, use of face coverings, and clear communication with employees and subcontractors regarding procedures.
Post-Construction Direction and Coverage
Risk assessment is not only a concern during the construction process but also post-construction. If there is post-construction warranty work done, then the contracts and insurance policies need to provide clear direction and coverage.
Kristi emphasizes the importance of clear communication throughout the process to mitigate risk. This helps to minimize issues and misunderstandings as projects move forward.