Meet the Team: Kristi Harris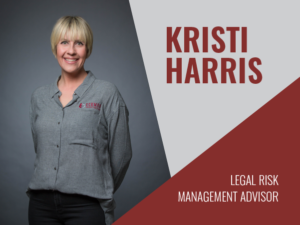 With over 16 years of commercial construction experience, Kristi Harris brings a wealth of knowledge to Eckman Construction in her role as Legal and Risk Management Advisor. Her career in the construction industry began when she accepted a position as a receptionist. "I quickly took an interest in construction operations and continued asking management questions," explains Kristi. "This led to my being mentored by the owner and a vice president in the area of project management. It was a multiple-year process, long hours, and interesting work."
In 2015 Kristi joined Eckman Construction as a Project Assistant and, within a couple of years, was promoted to Project Engineer and then again promoted to her current position. When asking Kristi to share more about her job, her responses reveal both passion for the company and her work.
"We have a good team. We go out of our way to make sure our owners and subcontractors are happy," says Kristi. "We are diligent in our effort to ensure projects run smoothly. When the unexpected happens during a project, we are professional and focus on solutions while maintaining open communications." Kristi details how her role in risk management is to aid in avoiding the unexpected by ensuring contracts and insurance policies are carefully reviewed and crafted to mitigate issues in the field.
Kristi strives for ongoing and clear communication. She describes communication and positive project outcomes as going hand-in-hand. The process begins during pre-project discussions and continues through post-project follow-up. "When we start working with a new owner or subcontractor, we meet and go over expectations for all parties," describes Kristi. "Successful projects are all about communication and understanding what each party's needs. It is knowing when a meeting or phone calls will be more beneficial than an email."
In her role, Kristi works closely with Legal Vice President Eric Robinson in creating contracts and reviewing insurance policies to ensure these meet each parties' expectations and the specific needs of individual projects. As Kristi expresses, each project, owner, and subcontractor brings unique requirements. Kristi is a master of managing a variety of details. Ultimately, she is responsible for assisting and guiding the company's corporate risk and safety management, including insurance compliance.
"Eckman Construction is a good company to work with because we deliver quality service to our owners and have strong relationships with our subcontractors," concludes Kristi.