Meet the Team: Steven Anderson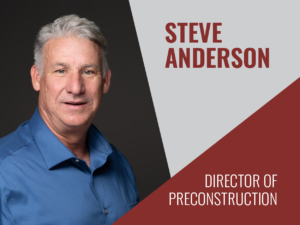 We welcome Steven Anderson as Director of Preconstruction at Eckman Construction. Steve has more than twenty years of civil and geotechnical engineering experience addressing a variety of challenges and demands. With a passion for organized and well-coordinated projects, he has honed his skills to execute practical and cost-efficient results. His background includes everything from coastal bluff stabilization and mechanically stabilized earth retaining walls to multi-level parking structures and sport field complexes, and his skills cover everything in between. Steven is a Certified Professional in Erosion and Sediment Control.
Passionate and organized, his role in project oversight and maintaining direct contact with our clients allows him to secure well-coordinated project results. His technical skills in design and coordinating consultation complements his strengths in innovation and problem solving. He works hard to collaborate with empathy and always improve and update his skills and knowledge, tackling problems by dividing them up and taking them one step at a time. At the end of the day, his reward is the result: a successful project.
Away from his sites, Steven Anderson enjoys anything outdoors, especially motorcross riding and golf. To him, a large contributor to his success has been his motivation to be a role model for his kids.