Meet the Team: Spencer Johnson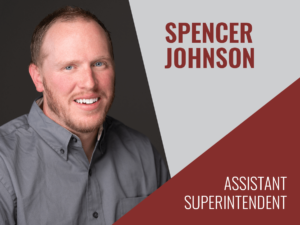 Spencer Johnson recently joined Eckman Construction as an assistant project superintendent. He brings six years of construction experience both in the field and office. He began his career as an operations assistant and construction claims manager before moving into the role of a concrete carpenter on a variety of commercial, and industrial projects. With an eye for detail and safety, Spencer also managed stormwater pollution prevention plan (SWPPP) compliance on the new $4.1 billion Salt Lake City International Airport.
As assistant superintendent, Spencer will support the on-site day-to-day operations of Eckman Construction projects and implement and maintain a high level of quality control and safety standards. He will also be responsible for monitoring and updating project schedules to match the labor, equipment, and materials needed to meet critical construction milestones.
Clients and coworkers know Spencer for his enthusiasm for the construction industry and desire to learn from the best in this field. He enjoys drawing from his past experience and the collective energy and ideas of his team to formulate a plan to meet owner and project goals.
Prior to joining Eckman Construction, Spencer worked for several regional contractors. He earned a bachelor's degree in Construction Management from Brigham Young University-Idaho. When he's not at work, Spencer enjoys mountain biking.