Meet the Team: J.J. Martin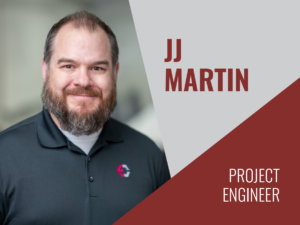 Project Engineer J.J. Martin joined the Eckman Construction team early this year. As the Project Manager's eyes and ears on a job site, he assists with developing and updating construction schedules, managing subcontracts and submittals, monitoring job costs, and enforcing job site safety and quality standards.
A proactive and detail-oriented leader, J.J. enjoys building relationships with subcontractors to meet budget and schedule milestones. His ability to interface and communicate effectively with the field team and project leadership while juggling multiple tasks is why he's so adept at meeting project challenges. Utilizing his technical software expertise, J.J. helps to reduce project risk by efficiently managing project correspondence, reporting daily job site events, and tracking costs. He also finds value in fostering a united team so each team member can do their job effectively.
Before joining Eckman, J.J. earned his Bachelor's degree in construction management from Utah Valley University and has spent the previous six years in the field. When he's not at work, you can find J.J. outdoors in the mountains, either hiking or on his mountain bike.