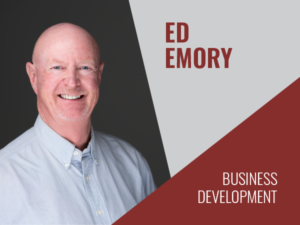 Ed Emory is a quintessential professional. As a team-building mentor to Eckman executives for over 30 years, he knows more than most about Eckman's philosophy and successful processes. And he knows how to get business done—Ed actively manages a book of business with an 80% client return rate. Eckman is proud to have Ed Emory lead our business development team.
Ed is a relationship builder. Putting people at ease seems to come naturally to him. He takes time to listen to what people are saying—what they're not saying—and he knows how to deliver a consistent, high-quality client experience. Clients and colleagues want to talk to him because he knows how to help them.
Ed is heading up Eckman's emerging Idaho division working on large-tilt concrete slab for the growing warehouse office flex space. "Eckman can produce a building ready for tenant improvements in a short amount of time. The rapid evolution of tilt to completion provides a tremendous advantage over other forms of large flex warehouse space construction." Ed explains, "It's a faster process than steel erection. Tilt is a form of construction that tilts panels of concrete into position on slabs. Panels are poured on a slab and with a series of hooks, we tilt panels using a crane and weld them into place. We self-perform our own concrete and successfully place large-tilt concrete slabs in a fraction of the time of steel. This allows us to offer our clients Eckman excellence within a shorter time frame."
Ed specializes in logistics, but he may be best known for his innovative mind. When asked about his goals at Eckman, he doesn't hesitate: "I'm here to ensure Eckman's quality and growth transitions well for generations to come." He knows how to integrate a wide array of personalities and skill levels to improve the client experience. Gary Eckman believes "Ed has a unique ability to look at things from different angles and open avenues others haven't thought of. He knows there is a solution to every problem, and he leaves no rock unturned. Ed is a great asset to the Eckman Construction team."
Ed appreciates Eckman's solution-based approach to construction. "It really positions our clients for a better tomorrow," he says. When he's not working, Ed enjoys flyfishing, upland bird hunting, skiing, hiking, and biking. If you would like to talk about your next project, you can contact Ed at eemory@eckmanconst.com. Make it exceptional. Make it Eckman.