Eckman and American Eagle Ready Mix Team up to Help Habitat for Humanity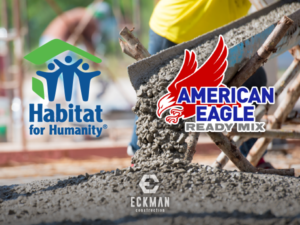 Home for the holidays. Literally. Over the past several months, Eckman Construction has joined resources with American Eagle Ready Mix to supply concrete and construction services to support Habitat for Humanity. The project, called Field of Dreams, is in Kearns, Utah on what used to be an empty lot occupied by a couple of baseball fields. Now a new affordable housing community is coming to fruition. When complete, the project will provide 20 homes.
"We're honored to work with Salt Lake Valley Habitat for Humanity on this project and would like to give a special shout-out and thank you to our friends at American Eagle Ready Mix who donated the concrete and provided excellent service for the project," said Cooper Eckman, President of Eckman Construction. To date, the team has placed concrete for many different driveways, sidewalks, floors, and outdoor amenities to families in need of housing.
American Eagle Ready Mix is a full-service supplier of concrete products and supplies since 2016.  They offer services from four plant locations throughout Utah–Magna, American Fork, Saratoga Springs, and Heber City.
"We appreciate having great partners like American Eagle Ready Mix to help us get the job done but more importantly make a difference in people's lives, said Eckman. For more information on this project and the organizations involved, visit Salt Lake Valley Habitat Humanity, Eckman Construction, and American Eagle Ready Mix.