Benefits of Tenant Improvement Construction in Utah
5 Ways Tenant Improvement Construction Projects Can Help Utah Building Owners Save Money, Attract Tenants, and Increase Property Value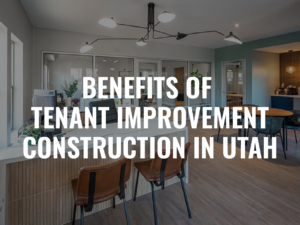 Tenant improvement construction projects can provide several benefits that help save Utah building owners and developers money in the long run.  Taking a thoughtful approach to upgrading Utah buildings can provide long-term benefits that increase the value of a property and attract and retain future tenants.
Increased efficiency
A well-designed tenant improvement project can help optimize the use of space and increase workflow efficiency. This can lead to reduced operating costs, such as lower utility bills, maintenance costs, and staffing requirements.
Improved aesthetics
Upgrading a tenant space can improve the aesthetics and appeal of the property, which can attract new customers or clients and increase the value of the property. This can help justify the cost of the renovation and even generate more revenue.
Better functionality
A tenant improvement project or construction remodel project can also help improve the functionality of a space by adding or rearranging amenities, such as bathrooms, storage, or break rooms. This can help improve the overall comfort and productivity of employees or tenants, leading to better retention rates and fewer vacancies.
Compliance with regulations
Many Utah tenant build-out projects involve upgrades to meet safety or accessibility regulations, such as installing fire alarms or wheelchair ramps. By ensuring compliance with these regulations, you can avoid fines and legal issues that can be costly in the long run.
Longer lifespan
Finally, commercial interior remodel projects can help extend the lifespan of a property by addressing structural issues or upgrading outdated systems, such as HVAC or plumbing. This can help reduce the need for future repairs or renovations, ultimately saving money in the long run.
"Tenant improvement projects are not just a cost, but an investment in the future of your property," says Cooper Eckman, Managing Director and Owner of Utah tenant improvement construction specialists, Eckman Construction.
Overall, investing in a tenant improvement project can provide long-term benefits that can help save you money and increase the value of your property.