Meet the Team: Luis Gonclaves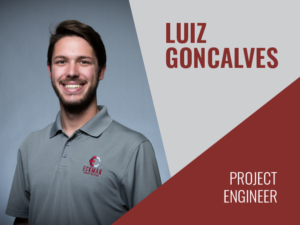 Luiz is a project manager's right-hand man. He assists with everything from subcontracts to submittals and scheduling. He facilitates meetings, responds to RFIs and generally helps keep a project on track.
He began his career with Eckman in 2018 as an intern and was hired after graduation as a Project Engineer. As the youngest team member at Eckman, he brings enthusiasm and adaptability to the team. As a civil engineering graduate among mostly construction managers, Luiz offers a benefit to Eckman clients and projects by bringing added value as a designer not just a contractor.
Luiz's talent also includes quickly getting up to speed with the latest technologies. He uses the project management software, Procore, to capture what's happening in the field to reconcile that with all other records, ensuring that the team is always working from the most current information.
Originally from Brazil, Luiz is no stranger to construction. His extended family owns and operates a construction firm in his hometown. "I moved to Utah to attend college but decided to stay because I found that people in Utah are welcoming and I formed friendships quickly," reflects Luiz. Today he has found a home at Eckman where he has a team of mentors who are as invested in his growth as he is. "My colleagues at Eckman are always taking the time to help me learn and grow," says Luiz.