Meet the Team: Cooper Eckman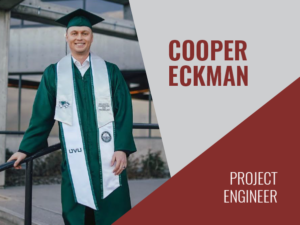 Hands-on learning makes for the best type of learning. Cooper Eckman has spent his life in the construction industry. His earliest memories include making paper airplanes in the office and visiting various jobsites after school with his dad, Gary Eckman. At 16 years old, Cooper started working with Eckman Construction by forming panels and finishing concrete under the mentorship of Scott Duke. During this time, he began to develop a passion for the construction industry and pursue it as a career. In recent months, Cooper has achieved his goal of obtaining his Utah General Contractor's License and earning his Bachelor of Science in Construction Management from Utah Valley University. Cooper has now returned to the Eckman Construction team full-time as a project engineer.
When asked what he enjoys most about the construction industry, Cooper says, "I enjoy watching project concepts turn into successful industrial, commercial, and office buildings for our clients. I enjoy the teamwork that goes along with every project and the different types of people throughout the industry. We have great subcontractors and material suppliers across the valley that now seem like family. These key connections make us different and help ensure our clients' projects are successful. This work and these relationships are truly rewarding."
Cooper is hands-on and detail-oriented which is necessary for his role as a project engineer. Additionally, he is one of several experienced, Certified Procore Administrators at Eckman Construction available to clients. His experience with Procore, paired with On-Screen Takeoff, helps meet client's needs by providing accurate and efficient estimating and scheduling. Cooper's responsibilities include managing the business side of the project in conjunction with the project manager. He is also proactive on the job site by reviewing safety and quality standards, working closely with the site superintendent, and coordinating with subcontractors to ensure the project meets budget and schedule milestones.
Eckman Construction is on the cutting edge of imaging. Cooper is proud to lead Eckman's drone technology team. As part of Eckman's drone technology services, Eckman offers 3D imaging and aerial construction photography, providing owners real-time updates on their projects.
Despite his success, Cooper remains grounded. "It doesn't matter how many certifications or how much education someone has—some may have only a broom or shovel in their hand—it's essential to treat all people with respect.  Cooper states that he has been taught this concept by example from Robert Warcup and Barry Hallsted of Utah Valley University.
Cooper's recent and current projects include Security National Phase 2 Building, Catalyst Building #3, Riverton Flex A & B, Roderick Springville Building Lot 2, Clutch Warehouse, Anixter Tenant Improvement, Power Blanket Tenant Improvements, and Mountain Tech 3 & 4 across Salt Lake, Utah, and Cache counties.
As one of the youngest Eckman sons, Cooper's spent a large part of his childhood in Jackson Hole, Wyoming, where he developed a love for fly fishing, hunting, and skiing. Cooper also enjoys traveling with his wife, photography, and spending time with his family and friends.