Managing the Materials Shortage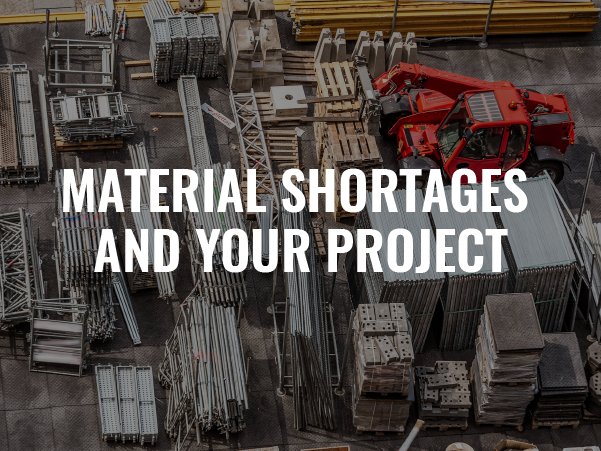 The shortage of construction materials continues to impact projects across the country. Meanwhile, Eckman Construction has found ways to adapt and continues to successfully deliver projects for their clients.
"I've been doing this for 32 years and I've never seen anything like this," commented Scott Hardy, President of Operations at Eckman Construction. "With the rising costs of materials, Eckman has used this as an opportunity to improve communication with our clients. We want our clients to know they have an ally through their build," Scott continued.
The National Ready Mixed Concrete Association (NRMCA) has measured a 38% increase in the average price of concrete in the last 12 months. A shortage of concrete powder and fly ash has led to production delays for many firms. Eckman's strong relationships with established suppliers have provided priority delivery for clients' concrete installations. Scott added, "Eckman is proud to be able to self-perform most of the concrete they use, and their labor prices have stayed about the same."
Eckman is also taking extra measures to help their clients understand the impact the market may have on their schedules. Scott shared, "We are completely transparent as we build our schedule based on the delivery date of steel and other long-lead items. This practice protects our clients from drawing funds and avoid paying interest on money drawn too early."
Scott offered a couple of practical suggestions to navigate the material shortage:
Due to this escalation in material pricing, we encourage our clients to lock in their materials prices sooner. This is the best way to prevent contract modifications due to rising material costs.
Hang in there. Speaking on the materials shortage, Evan Barlow recently shared, "The year ahead of us almost certainly carries less worry and uncertainty than the year immediately behind us." (Standard-Examiner, 25 May 2021). Scott agrees. "Cost-prohibitive building will lead to a market slowing. Prices will drop. Supply and demand will stabilize. Until then, we'll keep building while we await the new normal. We're going to make it through this."