Eckman Cares: We Can Always Help Others in Need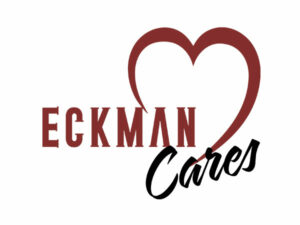 We are pleased to announce that we are introducing a new division within Eckman Construction. "Eckman Cares" will focus on serving the communities in which we work, live and play. The main objective for this area of focus is to help others through volunteer work for charities, individuals and entities that serve the community because, well, we care.
Our goal is to bring our team together and help serve various communities for a good cause. We have selected service recipient entities that matter to the people who work at Eckman Construction. We have numerous events lined up:
November: Road Home (Homeless Shelter)—serving lunch to the homeless
December: Utah Food Bank
January: Animal Shelter
"We believe that we can always help others in need," said Gary and Sherry Eckman, "and we wanted to create a dedicated focus within Eckman Construction that concentrates on serving those that need extra assistance. Our team and their family members welcome the opportunity to come together for a good cause."
Making the world a better place and helping others is something we are passionate about with our projects—going one extra step and weaving that passion into our company will reflect our intentions. We're here to stay, and we're here to build a better Utah.
"Helping one person might not change the world. But it could change the world for that one person."