Meet the Team: Zach Eckman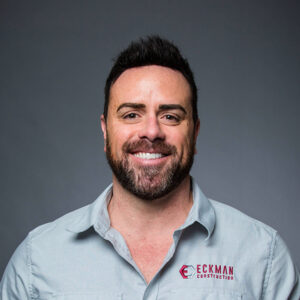 A proud graduate from the University of Utah with a degree in Economics, Zach works as a project manager for Eckman Construction. He interfaces with many different departments and ensures tasks are done on time and within budget. He oversees Industrial projects ranging from $1million to $10 million, experienced with managing both national and international projects. He has proudly served as a board member of the AGC of Utah and as a member of the Economic Development Corporation of Utah.
A notable project Zach has successfully managed includes a 75 million-square-foot industrial park in Sandy, Utah called Pheasant Hollow for Roderick Enterprise. He has also served as project manager for Sportsman Warehouse locations throughout the nation and received outstanding achievement awards for this large-scale project. He loves taking a project from the ground up and watching it evolve into a massive structure.
He attributes his many successes to his family and the colleagues he has worked with throughout his many years with Eckman. He is surrounded by a team of professional, hard-working people who motivate him to think big and make it happen! He is the proud father of two amazing children; his son and daughter inspire him to be better each and every day.