Meet the Team: Tiffanee Eckman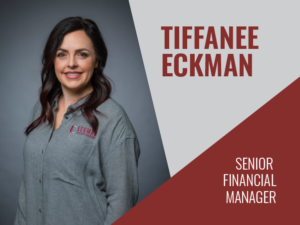 Our Senior Financial Manager, Tiffanee Eckman, started her career in the construction industry nearly two decades ago. Her first role as receptionist was a stepping stone to a career in accounting, finance, and human resources. Early on, she discovered her natural interest in construction finance, along with a passion for building work teams.
"I increasingly became curious about the financial processes in commercial construction, including how to manage costs and profitability," says Tiffanee. "I was fortunate to find a mentor to help me learn the ins and outs of accounting and finance."
Tiffanee and her team under the leadership of company Vice President, Eric Robinson, plays a critical role in helping to keep Eckman Construction projects within budget. One of her team's many responsibilities is maintaining ongoing communication with the project managers and subcontractors to to assist in keeping project costs & budgets on track.
Her move from receptionist into various accounting responsibilities prepared Tiffanee to lead Eckman Construction's financial services department. Her first role in the accounting department was in payables, which provided her the opportunity to work with subcontractors and vendors. She then moved into receivables, where she interacted with owners and developers.
When asked what sparked her interest in the business's financial side, she explains, "I like numbers and working with people, so it is a good fit. I feel lucky to have built great relationships with our subcontractors, employees, and project owners." she continues.
In addition to managing financial services for Eckman Construction, Tiffanee oversees payroll for the company. The ever-changing employment environment brings both challenges and opportunities in this arena. Tiffanee and her team work diligently to ensure employment compliance issues are met along with employee health, safety, and an emphasis on overall job satisfaction.
Working side by side with her grandfather Gary Eckman, her father Eric Eckman, and various other family members, has contributed to the unique culture here at Eckman Construction. "We truly value relationships as part of our overall business operations, she explains. "We realize that every single employee, subcontractor, owner, and vendor is extremely valuable to the overall success."