Meet the Team: Scott Hardy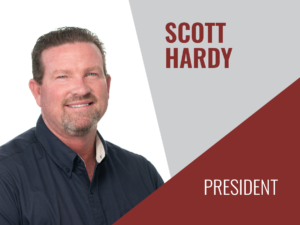 Scott Hardy isn't your traditional executive. He is a field guy at heart. Perhaps, he is best known for his positive problem-solving skills and over 30 years as a project superintendent in the construction industry. He has spent his life in the field detailing master schedules, supervising contractor plans, managing project logistics, and building relationships to keep technical projects running smoothly. His understanding of construction, project management, and business management makes him great at what he does. Eckman Construction is proud to introduce President Scott Hardy.
When asked about how he solved his toughest project, Scott recalls a healthcare construction project exceeding $108M. He explained, "It spanned nine consecutive years on one campus. To handle it, our team created five smaller, stand-alone, construction projects which incrementally fed on one phase to the next. Each phase of work was organized, bid, and completed with a separate set of construction documents which allowed us to effectively control deadlines in a more predictable way."
Scott's energetic, hard-working nature is a great addition to Eckman Construction. Scott believes increasing communication produces better opportunities. Goals are best met when paired with a path to accomplish them. Celebrating individual successes encourages personal growth. An effective operations team can lower risk for clients and teams on job sites. Streamlining field and office processes improve individual employee productivity. And the best teams, united under a common goal, begin with trust and respect. He fits right in.
Scott earned his Bachelor of Science in Business Administration and colleagues appreciate his experienced approach to construction. Scott is a fixer. He loves to solve problems and you would be hard-pressed to find a nicer, more practical, goal-oriented guy.
Scott says, "Trust one another to fulfill your individual roles. Like a project under construction, a new building requires the support of a strong foundation. So it is with teams. An effective team, built on a foundation of trust and respect, allows each team member to rely on each other as they carry out their responsibilities."
A native of Utah, Scott and his wife are the parents of four children, and they will welcome their first grandchild this summer. They love everything about the outdoors—camping, fishing, hiking, biking, backpacking, national parks—and they are thrilled to be back in Utah County. He is also fluent in Spanish.
We're thrilled to welcome Scott Hardy to the Eckman Construction family!