Meet the Team: David Mestas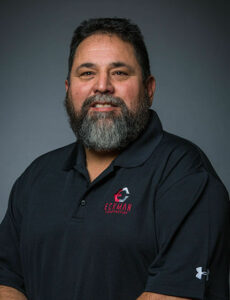 When it comes to keeping things on schedule and ensuring that project details are met, Dave is the man to get it done! As General Superintendent, Dave is the key liaison between superintendents and project managers, actively involved in decision-making strategies by serving as a current executive of Eckman Construction.
He began his career with Eckman in 2000 and has managed more projects than he can count, a handful of which were done while traveling abroad for the Sportsman's Warehouse projects, keeping things running in 6 states from Utah to Minnesota. He is a true sportsman to the core and enjoys spending time with his family while fly fishing, camping, hunting, and participating in ALL things outdoorsy.
He is motivated by getting things accomplished through hard work and dedication, working his way up the ranks where he jack-hammered for 6 months. That part of his life, he says, gives him the understanding for all angles of construction. He enjoys managing old building remodels the most. One of his favorite projects was when he was involved in the McGillis School addition. He is most thankful for the opportunities and mentoring Gary Eckman has provided him over the years.